The Islamic School of Art (ISOA), one of Iran's leading schools for the study and preservation of Persian Islamic art forms held its second course on the Philosophy of Islamic Art, bringing together artists, researchers, museum curators and academics from around the world.
The ten-day course took participants from the US, UK, India, Turkey, and Russia on a path of learning and appreciation of the different facets of Islamic art namely music, Persian painting, literature, cinema, calligraphy, philosophy as well as architecture.
Students were introduced to various ideas of Islamic thought and spirituality through lectures by leading professors from Iranian universities who not only presented pioneering research in their respective fields but also engaged in practical hands-on activities with the participants.
The students received instruction on the following topics over the course of ten days:
Ideas of Islamic Art Dr. Gholamreza Avani
Philosophical Bases of Music Dr. Human Asadi
History and Philosophy of Islamic Painting Dr. Amir Tahmasbi
Beauty in Mystical Literature Dr. Shahram Pazoki
History and Various Styles of Calligraphy Dr. Hamidreza Qhelichkhani
Primitive Kufic Calligraphy Seyyed Vahid Jazayeri Musavi
Philosophy of Islamic Architecture Dr. Hamidreza Farzanyar
Symbols in Islamic Philosophy Dr. Mahdi Homazadeh
Ritual Practices in Islamic Art Dr. Seyyed Razi Musavi Gilani
The interactive course took students to private and public museums in the Iranian capital Tehran, offering access to some of the rarest calligraphic and Quranic manuscripts in the world as well as introduced them to Iran's pre-Islamic history and its influence on Persian art.
Students also learned the mystical aspects of Islamic architecture found in Iran's revered shrines through a visit to the holy city of Qom, which is home to the famous haram (holy shrine) of Hazrat Fatemeh Masoumeh, the sister of the eighth Shia Imam( P.b.u.h.).
They were also allowed a rare access to one of the Middle East's largest libraries for Quranic and Islamic books as well as manuscripts from more than eight languages that are housed in the Marashi Najafi library founded by Ayatollah Marashi Najafi.
The picturesque desert city of Kashan, particularly its famous Bagh-e Fin formed the basis of an outdoor lecture on the significance of gardens in Persian art.
The educational tour came to a holistic finale in Isfahan, also known as Nesf-e Jahan (half of the world) for its azure blue Shaikh Lotfollah, Imam as well as the historic Jameh mosques, its buzzing centuries-old bazaar as well as the Ali Qapu palace – a splendid example of Safavid architecture from the time of Shah Abbas I.
Historic houses such as the Chehel Sotoun (forty pillared) set amid a typical Persian garden as well as the Khaju and Si-o-se-pol bridges built during the Safavid period were among other sites that students visited in Isfahan.
The course concluded with an open discussion between students and directors of ISOA on their personal interpretation of Islamic art. The artists in attendance presented their individual craftsmanship such as Islamic art-inspired glass-work as well as ebru (Turkish paper marbling). The curators shared insight into their work in the field of art from diverse regions and time periods such as Ottoman Turkey and Mughal India, while the academics shared their perspectives on how spirituality informed Islamic art.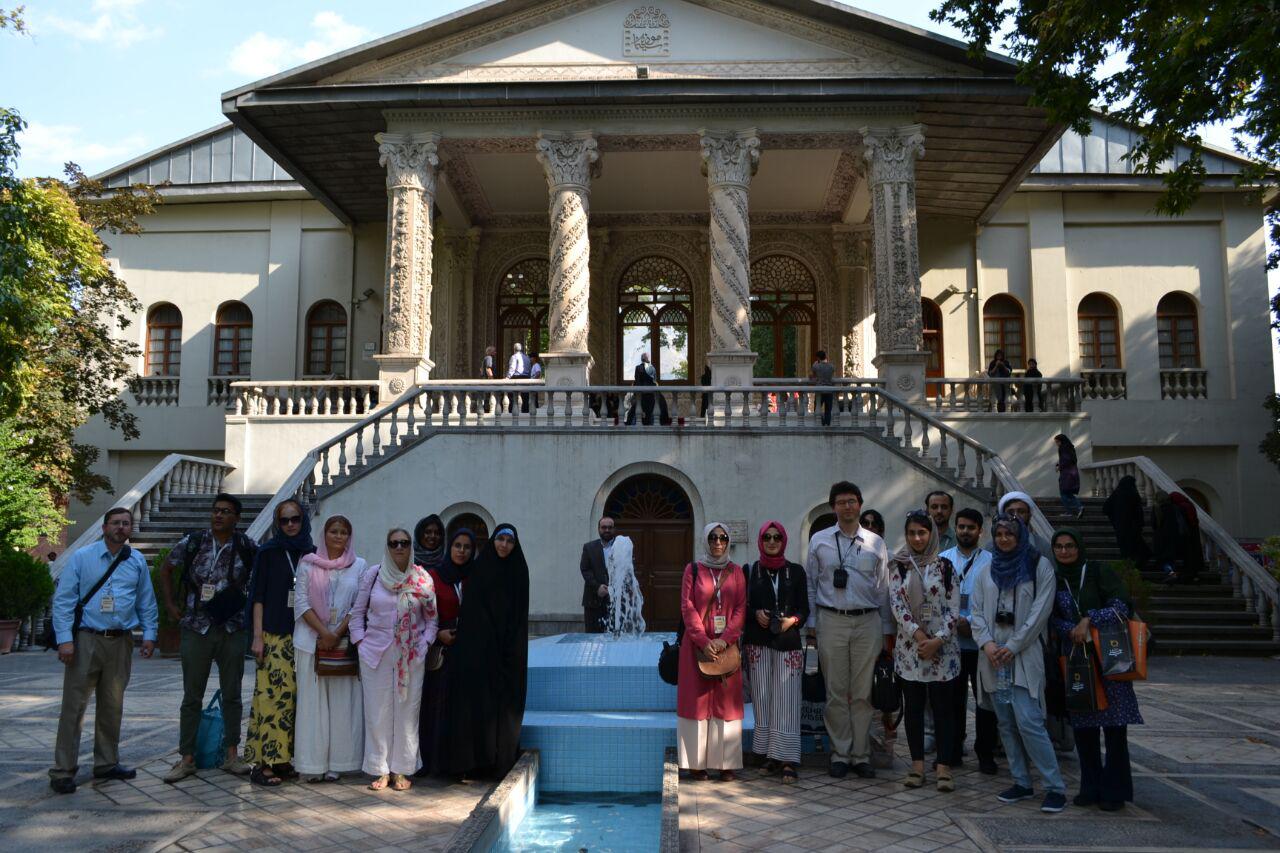 All participants received a certificate from the Islamic School Art in collaboration with the University of Tehran and Iran-based Eco-Cultural Institute for their participation in the course.
The next course on Philosophy of Islamic Art will be held in March 2018
Interested participants can contact isoacourses@gmail.com for more information.